Savina Speaks...July 22, 2010
A Message from a Spinner Dolphin
Through Kathryn Jensen

I come from the coastal waters of The Big Island of HI. I come to you with great heart felt gratitude for the love I receive from all of you reading this transmission. My consciousness is steeped in Helios' star system Sirius. I speak of Helios because he and I have both taken care of the one who serves you with our consciousness. Helios and I deeply listen to the contradictory protests to creating holy sepulchers (altars) on this Planet Earth. (Read Helios Speaks-July 14th if you haven't read his amazing message)

Our divinity does not even begin to be considered by those who rule your governing bodies. Cetaceans are the divine community that sets the stage for humanity's sepulchers to be consciously placed, with precision, where they may serve your hearts with the service required for you to heal your wounds and other afflictions that affect your willingness to follow your own heart song.

I am the communicator for my pod of Hawaii spinner dolphins. My name is Savina. I care for my pod as the great grandmother as the one some of you know as baby Haley. I care for my pod and I care for the sepulchers my pod has created in our home waters.

We create sepulchers with frequency wave activations. As a result my pod members love to go to these locations to kria ourselves into healing our own wounds. Cetaceans, like humans, suffer from heart break.

I have never spent much time swimming with humans in my coastal waters of The Big Island of Hawaii. I prefer to go, with my pod, to small coves where we lift the frequency of our hearts. The scarcity of humans in these places, where I choose to go with my pod, makes it possible for me to take time, with each individual pod member. In personally taking time with each pod member I care for their struggles they have as they view the Earth. We can, using what you call remote viewing circumnavigate the globe. We create healing frequencies, and then we serve Earth in ways that I'm about to describe to you.

The collective service that started to be given by my pod of spinner dolphins, as some of you began to give others the essence, Haley's Heart Song, has been very definitely, making a difference in the transmutation of the difficulties my pod has experienced, fine tuning the hearts of humanity.

We feel most of you could benefit from purchasing a $2.00 stock bottle of Haley's Heart Song. With the contents of the stock bottle you can create as many as one hundred essences for others. Click on Haley's Heart Song to read all about this opportunity.

My pod helps those who use the essence in their daily healing rituals. I intend to provide you with transmissions from my pod, to help you listen to the deeply sensitive prompting the human race came to Earth to follow.

You all are here to start a revolution in consciousness so you may serve those from other places, who gave up on the consciousness of compassion. Compassionate people accept responsibility for all of their thoughts and deeds. They hold others in their hearts even though they may not endear themselves to certain individuals. Such people live lives of service to others.

I came into the bay where Kathryn Jensen swam one morning in May. She was completing her vision quest of seven months and needed my consciousness to become her consciousness. I created a very significant symbol around Kathryn and her husband David.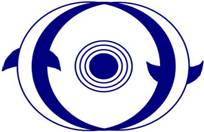 This symbol appeared in a field in another country. This is the symbol of compassion. The two circles represent the unification between cetaceans and humanity. The fractal of the circle in the middle is the Sirian star system's service to Planet Earth. The planet Oceana that's part of the Sirian star system is a planet that is most definitely the home of every species of Cetacean that you now observe on our Planet Earth.

See Helios' message on Grace before doing the following activation:
Helios's message.

I will be serving you with further transmissions. I ask that you help me create an extensive network of people with whom you share my transmissions. I am asking for all of you to help not only my pod, but all dolphins and whales to stair step the hearts of all humans into listening to the goal setters, for humanity, the cetaceans.

I am pleased to have you as my co-worker, in creatively becoming conduits for healing, loving, compassionate modalities that we can co-present to people.

I thank you,
Savina

© Kathryn Jensen-Blue Dolphin Essences-2010
www.BlueDolphinEssences.com

See Below for some great deals!
Grace

Splash! by Kathryn Jensen,

Info on purchasing Haley's Heart Song.

Learn about two modalities that optimize the functioning of your brain...both have sparked my personal growth and spiritual evolution. hence my recommendation!